I just wanted to plug Deep Fried here.
Deep Fried itself is a crass rude and offensive comic.
It's normally well done crass rude and offensive, though, and the
Clarissa
substory of a little girl abused by her dad is actually quite moving.
One of the recurring characters in the Deep Fried comics has been granted his own story arc, for what looks like 4 issues now (hopefully more).
This is Weapon Brown. In a post apocalyptic world, he is a warrior with a cyber arm, alone except for his dog Snoop. The first issue (not on line) shows Chuck fighting Dr. Van Pelt, the agent of the syndicate who used a football to 'condition' him into obeying her; meeting up with his old friend Patty and her new girl, Marcie; stopping Linus from raising the Great Pumpkin; all while on a search for his little redhaired girl.
Yes. You got it. It's the Peanuts gang all grown up in a Mad Max world. And Chuck is the biggest and baddest of them all.
After that story ended, I guess the fans yelled enough, because Weapon Brown's War started up. Updates normally twice a week, we're into issue three, most of which is on line.
Chuck has since fought Beetle Bailey and the Zombies of BC, and is about to go against the Pointy Haired Boss and the King of ID. We're about to see Weapon Brown and Snoop go up against Cal-V1n and H.O.B.S.
The archive is
here
.
The first WB comic in Blockhead's War is
here
.
PS: this is CAL-V1n and H.O.B.S.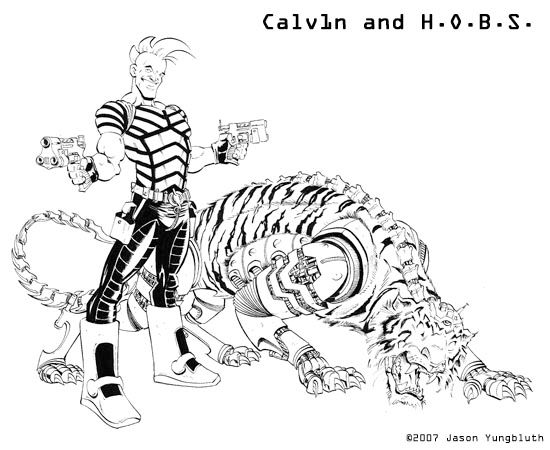 _________________
Chloride and Sodium: Two terribly dangerous substances that taste great together!