We went to the ROM this weekend, to see the Darwin exhibit, and we sidetracked through some other exhibits, as well.
One of the things I saw was this bronze of Artemis/Diana.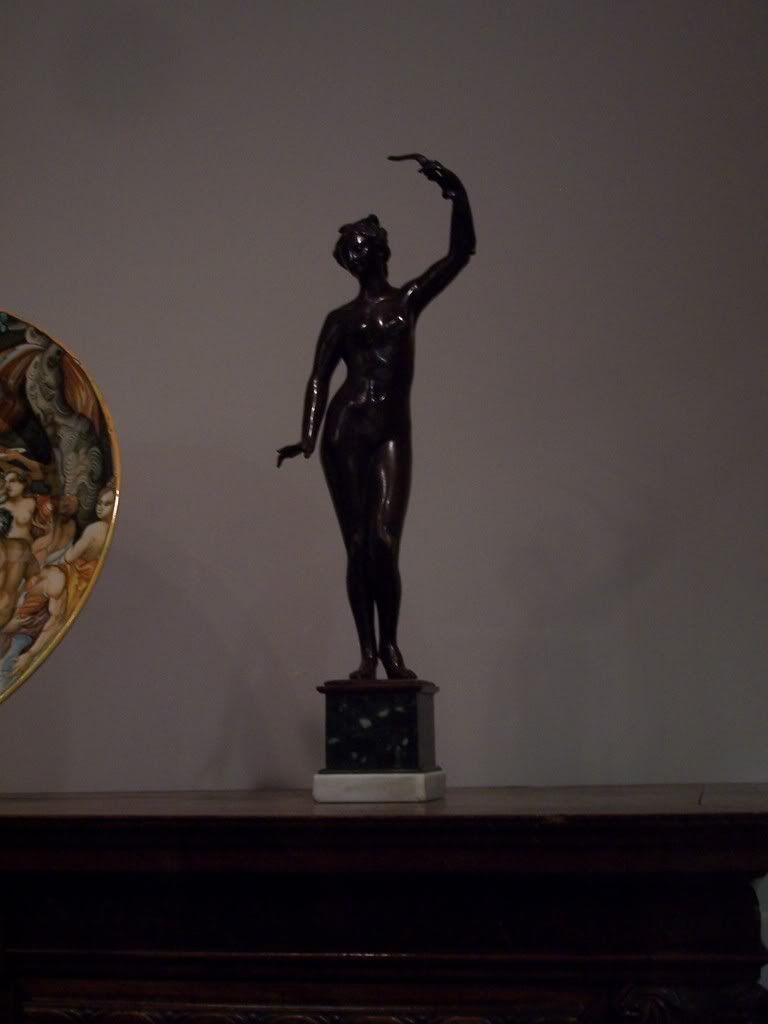 I know it's not the best shot, but it's mine.
Now, that's a bow in her hand, in a position she could nevershoot from.
Her pose brought to mind the Venus de Milo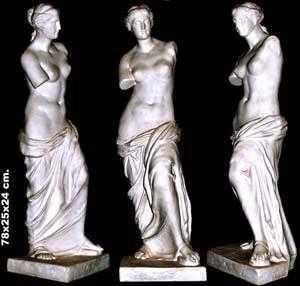 who is missing her arms. Now the French Bronze in the first picture looks like the artist was trying to recreate the de Milo to me, and tried to work in the bow (although this means he was confusing Diana and Venus, stranger things have happened). This reminded me of this book,
Women's Work, the first 20,000 years
, in which Elizabeth Wayland Barber speculated that Venus is not, as is popularily accepted, holding up her clothes, but is rather...
spinning.
The musculature of her back and arms shows that her arms were up and out, not close to her body, in what could be a traditional spinning pose. Spinning was not considered 'poor' or ignoble work (there are recodings of queens spinning with golden shuttles) and spinning was an allegory to the beginning of life--- think the Fates, who spin, measure and cut the thread of life--- and the goddess of Love would involve the element of procreation represented by the spindle.
Barber goes on to say that other statues of Venus have similar arms, and like the paint and jewelryt hat adorned the statues have disappeared, the spindles have as well.
This is a modern woman spinning:
for comparison.
Spinning is considered the first technological revolution--- it allowed the creation of strong fiber that wasn't limited by length the way sinew was, and this alloed for the creation of so many things. It is no wonder it was included with the gods' pastimes.
I wanted to share, after seeing that Artemis, that seemed to be ... off... in the artists choice of her tools.
The
Wiki
has a list of goddesses associated with spinning. Neither Venus nor Aphrodite is mentioned.
_________________
Chloride and Sodium: Two terribly dangerous substances that taste great together!